Saturday, March 23rd, 2002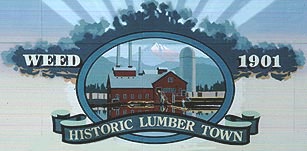 The rest area in Weed is where we stayed for a few hours to catch a nap. Jeff felt refreshed and we were off again by 6:30 AM.
We stopped frequently along our way through CA. I drove us from Redding to almost Sacramento, but I am more prone to "Highway Hopnosis" than is Jeff. So, he drove the rest of the way along I-5 to L.A.
The weather in CA was stormy. Great black clouds, heavy with rain, dumped their load on us so fast that the windshield wipers couldn't keep up. Of course, part of the problem is that in order to keep up with CA drivers you have to cruise along at 75 mph or risk becoming a road hazard!
About midway through our trek Jeff remembers that he had left his coat and hat sitting on the couch at home! Plus, I needed an evening bag, sunglasses, film for my camera, and a few other sundry items. So, in one of our stops we went into a local Walmart to do some shopping. Jeff got a hat. I found a simple crocheted black bag and some glitzy black sequined trim ( and a travel sewing kit) to make my own evening bag. The sunglasses were a neccessary item in Central and So. CA!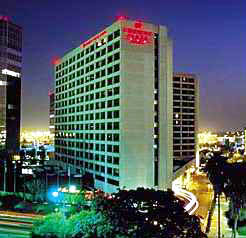 At last we arrived at our hotel, the Crowne Plaza (Airport). It was after 9:00 PM. Try as we might, we just coun't get there soon enough to be at the Pub Moot on time. I tried calling, but the phone number posted on Ian's site was "incorrect" according to a recorded message. The other phone number we got from directory assistance just rang and rang and rang. So, we changed our clothes and got a taxi, trusting that a Pub Moot really was happening and would still be going on when we arrived!
We walked into the Pub Moot just in time to see Rosie open her gifts. I shot a few pictures of people at the tables. We were very hungry, so we ordered some fish & chips. But we had to eat at a table in another room because it was just too crouded in the Moot.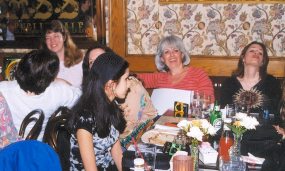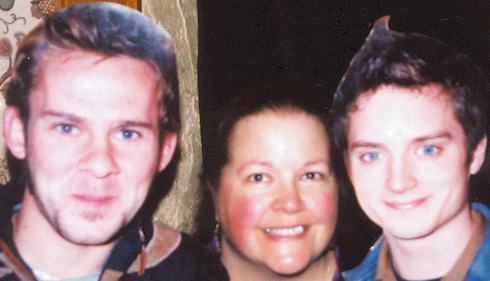 Jeff turned on his Irish Charm and got a pint of the pub's finest for himself at a discount... When he quipped to our son (on the cell phone) that he'd driven over 900 miles just to get a pint of fine ale, the manager overheard and was astonished. Jeff replied heartily, "Oh, that's nothing! A true Irishman will step over the bodies of a dozen beautiful women, just to get to a pint!"